About the Program
Available to students from all majors and schools at any of Rutgers' three campuses, the Rutgers Advocacy Corps-Day in DC, run by the Office of Federal Relations, is the university's signature student advocacy effort. The program equips students to be effective federal advocates on behalf of their peers through both online training and hands-on experience in our nation's capital.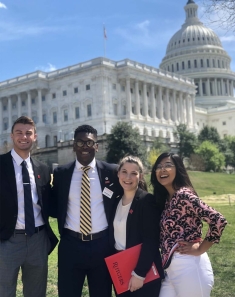 What is Rutgers Advocacy Corps-Day in DC?
Each year, the Office of Federal Relations connects a group of Rutgers students with federal policymakers to advocate for policy priorities important to the university community. This year, students will travel to Washington, DC for a day of advocacy on Capitol Hill. Federal investments in student financial aid will be the primary area of focus this year. 
Program Structure and Key Dates
Applicants chosen for the 2023 Rutgers Advocacy Corps-Day in DC will join us for a full day in Washington, DC on Tuesday, April 18, with travel and meal expenses covered by the Office of Federal Relations. They will also be required to attend a virtual orientation on Friday, March 24, and an in-person briefing luncheon on the New Brunswick campus on Friday, March 31. In addition to participating in advocacy meetings with Members of Congress and their staff, Rutgers Advocacy Corps members will have the opportunity to engage with Rutgers alumni working on Capitol Hill.
Who Can Apply?
All Rutgers student leaders interested in federal politics, policy, funding, and/or lobbying are encouraged to apply, with a preference for those who receive federal financial aid.
Application
Applications for Rutgers Advocacy Corps-Day in DC are due by 11:59 PM on Friday, March 10. Please email sbooth@oq.rutgers.edu with any questions.