About the Program
Available to students from all majors and schools at any of Rutgers' three campuses, Advocacy Corps, run by the Office of Federal Relations, is the university's signature advocacy education program.
Applications for Advocacy Corps are currently closed. Please check back at a later date.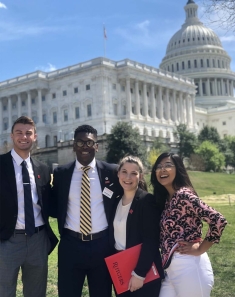 What is Rutgers Advocacy Corps?
Launched in June 2020, this virtual program—conducted via Zoom—is available to students from all majors and schools at any of Rutgers' three campuses.
Over the course of the semester, students will participate in policy briefings with senior Rutgers administrators, engage in career panels with distinguished alumni in politics and public policy, and meet with federal policymakers to advocate for policy priorities to the higher education community. To prepare for advocacy meetings, students will undertake policy research and attend dynamic prep sessions, allowing them a glimpse into the world of lobbying and policymaking. Federal financial aid will be the primary area of focus, and Advocacy Corps members could also advocate for policies relating to graduate and medical education, scientific research, and immigration, among others.
Program Structure and Key Dates
Applicants chosen for the Rutgers Advocacy Corps will attend an orientation and policy briefing, and subsequently, meet with congressional offices and committee staff. In addition to participating in advocacy meetings, Rutgers Advocacy Corps members will have the opportunity to engage with Rutgers alumni working on Capitol Hill and congressional staffers to learn more about careers in public service and policy. The program will be entirely virtual.
The Office of Federal Relations is excited to offer a 1 credit course for Summer 2022. The class will meet weekly on Wednesday afternoons and will occasionally meet outside this timeframe. Course registration is open only to selected participants. A special permission number is required and will be provided after selections have been made. Course Components: The program will consist of the following components and requirements:
Participation in all policy briefings;
Participation in career panels;
Meeting with members of Congress and staff to advocate for federal policy; and
Discussion posts and a written assignment.
Learning Goals
By the end of this program, students should be able to:
Explore applications of political science to the practice and processes of American politics; and
Connect classroom learning with the experience of working in government, politics, or public affairs. 
Who Can Apply?
All Rutgers students interested in federal politics, policy, funding, and/or research are encouraged to apply, with a preference for those who receive federal financial aid. Only undergraduate students will be eligible to receive credit, but interested graduate students are welcome to apply.
Application
Applications for Rutgers Advocacy Corps are currently closed.